Biography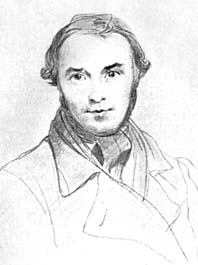 Taras Shevchenko was born on March 9, 1814 in the Ukrainian village of Moryntsi. His parents were serfs and lived in bitter poverty; both died before Taras was twelve years old. What saved the boy from being submerged in the sea of indigence were his native intelligence and artistic talent. The overseer of the estate selected him for duties in the manor house of the landowner, Engelhardt, to whose young son Shevchenko became a page-boy. The new duties provided Shevchenko with the opportunity of travelling in the retinue of his master and of copying pictures and works of art. When Engelhardt discovered his serf's unusual skill he promptly apprenticed him to various painters as he travelled to Vilno, Warsaw and St. Petersburg. It was in St. Petersburg that Shevchenko's talent was noticed by some of his compatriots who were eager to see him enrolled as a student at the Imperial Academy of Fine Arts. This was impossible as long as Shevchenko was a serf. On the initiative of some professors and friends the money necessary to purchase his freedom was raised and in 1838 Shevchenko was liberated from serfdom.
The successes which Shevchenko attained as a student at the Academy did not satisfy him. Sometime in the late 1830's he started to write poetry, at first ballads and lyrics in the current vogue of Romanticism, and later historical poems depicting the past glories of the Cossack Ukraine. Soon he directed his pen against the social injustices of his own time and above all against the political and cultural oppression of the Ukraine by the Russians. In 1840 his first collection of poems, Kobzar, stirred a wide response among his countrymen. Gradually, Shevchenko became an uncompromising revolutionary, a member of the liberal Ukrainian society, the Brotherhood of Sts. Cyril and Methodius, and a rebel with a definite cause. His plea was not merely for the political independence of the Ukraine, but for a just new order among all Slavs. Shevchenko was never narrowly nationalistic, for his hope lay in the regeneration of charity, tolerance and freedom among all men. In his satires he castigated with equal venom both the Russian rulers and bureaucrats and his opportunistic and philistine countrymen. His popularity in the Ukraine he owed also to his simple yet highly poetic language which laid the foundation of modern Ukrainian literature.
In 1847 Shevchenko was arrested and charged with belonging to an illegal society and with writing insolent, revolutionary poetry. He was sentenced to serve as a private soldier in the Orenburg district. The tsar, in his own handwriting, demanded that the poet be placed "under the strictest supervision with a prohibition of writing and sketching." For the next ten years Shevchenko lived the life of an exile under the military discipline of the Empire he hated so much. However, he managed to write secretly and even to paint. The poems from that period show a more detached and philosophic attitude to life; his hostility to the regime was unchanged. After his release in 1857, Shevchenko was in poor health and he died, unmarried, in St. Petersburg on March 10, 1861.
---
Local Links:

Return to the Table of Contents Page


Return to the Taras Shevchenko Poems Page

Return to the Ukrainian Literature Page

Return to Culture & Genealogy Page

Return to InfoUkes Home Page

---
Document Information
Document URL: http://www.infoukes.com/culture/literature/shevchenko/bio.html
Page layout and design by Orest Dorosh
E-mail: orest@infoukes.com
Copyright &copy 1996-1997 InfoUkes Inc.
E-mail: webmaster@infoukes.com
Ukes-O-Meter

since Mar 1 1997

InfoUkes Inc.
Suite 185, 3044 Bloor Street West
Etobicoke, Ontario, Canada M8X 2Y8
Tel: (416) 236-4865 Fax: (416) 766-5704
Originally Composed: Tuesday August 20th 1996.
Date last modified: Monday March 24th 1997.
---